It is easy to list classified on this site. All you have to do is register and then click on the big button on the top right corner of the page named "Post a Classified". Once you get to this page, you will see a drop down where you can first select post a classified or post wanted. Then you would select your item catagory and then fill in the remainder of the fields.
Please keep an eye out of any "red messages" which would indicate that the fields are required.
Once you have answered all of the fields on the posting page and you click at the bottom "Continue" You will then be directed to a "Preview*" page where you can preview your listing and upload any photos (if you selected this option) as well as any special features you may have selected.
If you selected a paid feature such as "Bold, Color, or Feature" options you will see the cost for your review. You can now click on the button that states "Click once to post item" and then it should be posted. If you did select the paid feature options, it will take you to an Account Statement** page where you can now select the ad or ads to activate. This will debit from your listing credits the appropriate amounts.
Please keep in mind, once your listing is posted, you can always go back and re-edit the ad if anything changes or if you see errors. To do this, juts log into your account and you will see under the first tab a link that states "Active ads" You should click this link and your ads will show up with a button on the right side where you can "edit". This will take you through the same process as the initial listing process (except you will not be able to change the paid features).
That is it. You can place up to 6 images. All classified will expire after 30 days. After it expires, you have up to 30 days to "renew" or relist with modifications to your original ad.
After the 30day period past expiration, the classified will be removed from the system.
Please note, that all inappropriate classified or wanted postings such as non-sanctioned images and use of foul language will be removed with no refund (if options were selected)
*Screen Shot of the Preview Page: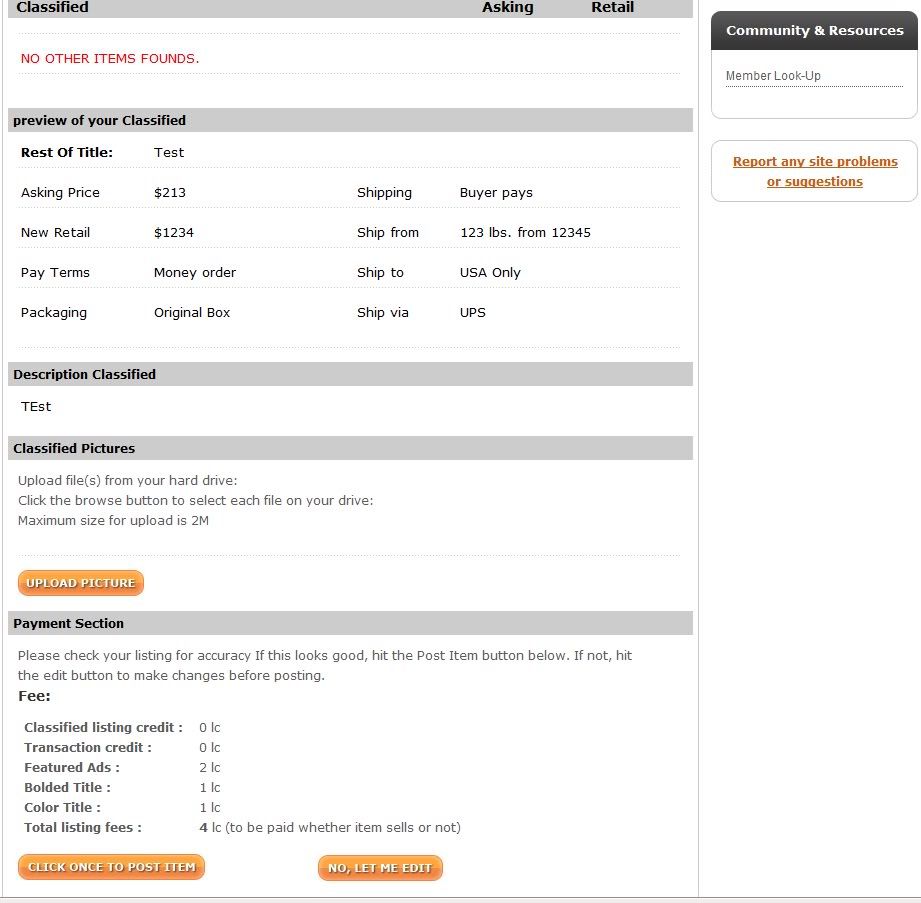 **Account Statement Page: